Klein Tools to Speak at Master Electricians Australia and Electrical Contractors Association's 2013 Electrical Industry Conference
September 24, 2013 (Lincolnshire, IL) – Klein Tools, (http://www.kleintools.com/) for professionals since 1857, announced today that Greg Palese, vice president of marketing at Klein Tools, will be a featured speaker at the Master Electricians Australia (MEA) and Electrical Contractors Association 2013 Electrical Industry Conference in Las Vegas, September 23 – 26, 2013.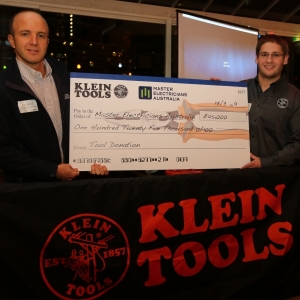 This follows on the heels of Klein Tools' announcement last week in Melbourne, Australia where they pledged $125,000 of tools over five years to MEA and previewed Klein's full product line to the electrical executives in attendance. Long known for their quality, durability and safety, Klein Tools will speak to attendees regarding their support of MEA's training and safety initiatives in Australia.
"Klein Tools is excited to collaborate with Master Electricians Australia and to bring the #1 choice of professional electricians in the US to Australian apprentice and master electricians alike," commented Greg Palese, vice president of marketing at Klein Tools. "Together Klein and Master will champion trust, safety and excellence in Australia's electrical market."
The annual electrical industry conference brings together electrical executives, project managers and purchasing agents from across Australia to discover new technologies and solutions, form new collaborations and partnerships as well as learn successful business skills from industry experts and practitioners.
Photo Caption: Klein Tools presents Master Electricians Australia with $125,000 donation. From left Carl Rankin, State Manager–Victoria (Master Electricians) and David Klein, Associate Product Manager (Klein Tools).
# # #