New power tool accessory line wins two awards
October 10, 2013 (Lincolnshire, IL) – Klein Tools, (http://www.kleintools.com) for professionals since 1857, announced five of its products won the 2013 Pro Tool Innovation Awards. Pro Tools Review editors set out to determine which tools, accessories and fasteners were the best, most innovative tools for 2013. Over 40 manufacturers submitted entries in nine categories. The Klein Tools product winners include the MM500 Auto Ranging Multimeter, Multi-Bit Power Drivers, Magnetic Power Nut Drivers, Non-conductive Fiberglass Fish Tape and Tradesman Pro™ Organizer Hacksaw Electrician's Bag.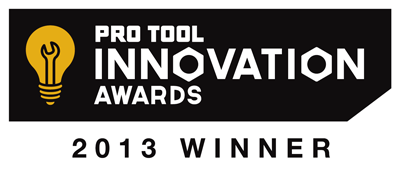 1. Klein Tools' MM500 Auto‐Ranging Multimeter is a durable, quick and simple‐to‐use meter for verifying or troubleshooting electrical circuits safely and reliably. It saves time and handles the toughest of jobsite environments with 3 m/10 ft. drop protection. The meter is IP67 dust and waterproof compliant and has a CAT IV 600V safety rating.
2. Klein Tools 5-in-1 (32605) and 6-in-1 (32606) Multi-Bit Power Drivers combine multiple screwdriver and nut driver functions in one power tool adapter. The solid body with 1/4" hex quick connect easily attaches to any power drill. It allows you to quickly change between functions.
3. Impact rated, Hollow Shaft Magnetic Power Nut Drivers from Klein Tools are designed for long bolts, studs or threaded rod jobs. The magnetic head holds nuts and bolts to aid in hard to reach installations. The wrench assist end is designed for high torque loosening found in many jobs.
4. Klein Tools' Non-conductive Fiberglass Fish Tape reduces the risk of injury and damage on the jobsite. Streamlined eyelet tip incorporates a wire trough so wire pulling head is smaller for easier navigation through packed conduit. Permanent markings in 1' increments allow accurate measurement of depth of conduit runs. Round diameter fiberglass protects existing wires from damage when fishing.
5. Klein Tools' exclusive Tradesman Pro™ Organizer Hacksaw Electrician's Bag includes a top-loading hacksaw pocket with protective plastic lining to avoid damaging the tool bag. It fits standard hacksaws up to 16.5'' so you can have your tool with you at all times. 48 pockets provide extensive tool storage. The tough, durable molded bottom withstands cold conditions.
"Klein Tools was thrilled to win five product awards, especially the two for our brand new line of Power Tool Accessories," states Greg Palese, vice president of marketing for Klein Tools. "Even though it was natural to leverage the same functionality, quality and performance you expect from Klein hand tools, and re-engineer it for a drill, we're happy Pro Tool Reviews recognized the unique innovations in this product lineup."
# # #
Klein is a registered trademark of Klein Tools, Inc. Since 1857 Klein Tools, a family-owned and operated company, has been designing, developing and manufacturing premium-quality, professional-grade hand tools. The majority of Klein tools are manufactured in seven plants throughout the United States and are the number one choice among professional electricians and other tradespeople. For more information, visit www.kleintools.com.
Pro Tool Reviews (PTR) is a successful online tool review magazine written by electricians, plumbers, carpenters, framers, concrete/masonry professionals and general contractors. PTR reviews are written by professionals, for professionals. For additional information, please visit www.protoolreviews.com